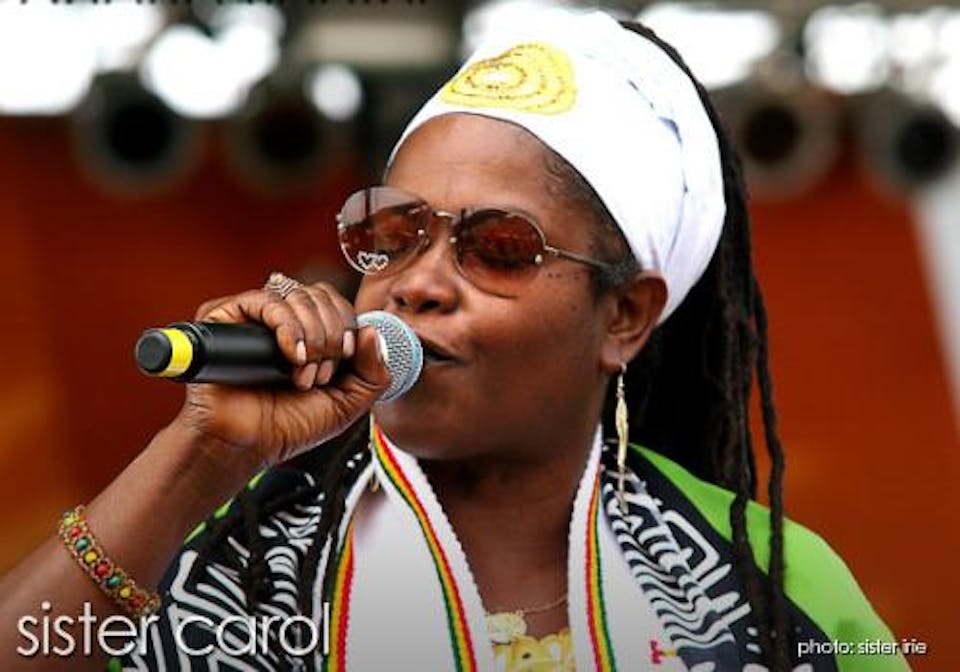 General admission.
Sister Carol was born Carole Theresa East, January 15 1959 in Kingston Jamaica. She is also known as the "Black Cinderella" and "Mother Culture". She is a Grammy nominated singer, DJ, songwriter, actress, entrepreneur, educator and humanitarian.
Her odyssey began in the ghetto of Denham Town, Kingston in the midst of the exploding Jamaican music scene and has grown to become one of Jamaica's top entertainers and a Global Icon.
Her formative years were spent at St Anne's Primary School and Mico-Practicing All-Age School. Her father Howard East was a senior engineer who dedicated his life, to his career at RJR (Radio Jamaica Rediffusion), the number one radio station during that time. He was also a very important part of the Studio One and Treasure Isle sound.
He regularly participated in sessions with the legendary "Clement Coxsone Dodd." These early influences not only left an indelible mark on her heart but also drew her closer to the infusion of the music industry.
At the age of 14 her family immigrated to Brooklyn NY in 1973. The thriving dancehall scene of New York City led this young rising star to a path that would acknowledge her talents with multiple awards, television appearances, sold out concerts and movies.
Following in the footsteps of her mentor and friend DJ Brigadier Jerry her musical career began after winning talent contests in both Kingston and New York. Sister Carol was offered an opening slot for one of Jamaica's finest vocal trios, The Mediations who had been the harmony backup vocals for Bob Marley.
This opportunity opened the door for her to record her first two records "Liberation for Africa" on the Serious Gold Label 1983 and "Black Cinderella" on Jah Life Label 1984, bringing her greatest talents, personality and vibe to a wider audience establishing herself firmly in the dancehall/DJ movement. During this time she dominated the music scene winning the coveted "Best Female DJ" for five consecutive years from 1983 – 1987.With these accolades behind her she established her own "Black Cinderella Record Label" in 1989.
In the midst of her success as an artist she continued to pursue an education attending City College of New York where she obtained a B.Sc. degree in education in 1984.
A true testament of her resilient spirit and energy spans over thirty-five years in a male dominated industry, Sister Carol is a trailblazer for women in reggae. Her music carries a social message for people all over the world. Her message is rich with cultural heritage and infused with a vital social consciousness that permeates every aspect of life in the new millennium. (Hence her title as "Mother Culture"). She has maintained a loyal fan base across the globe from Kingston – to Queens, Ethiopia to England, Detroit, Denver, East coast to West coast - Sister Carol reigns as the Queen of Reggae.
Her prolific music career includes over 12 albums/cd, a Grammy nomination for "Best Reggae Album" in 1997, "Most Outstanding Reggae Artist" two consecutive years 1997 and 1998, and "Queen of Reggae" in 2000 in Detroit Michigan, New York City Council Proclamation celebrating Jamaica's 39th year of independence. Also honoring Jamaicans in New York for outstanding cultural contribution to life in the city of New York in 2001, Institute of Caribbean Studies Wash. DC – "Cultural Heritage Award for Excellence in Music" in 2004, "Lifetime Achievement" in 2008 in Columbus Ohio, "Roots Women in Reggae" 2009 to name just a few.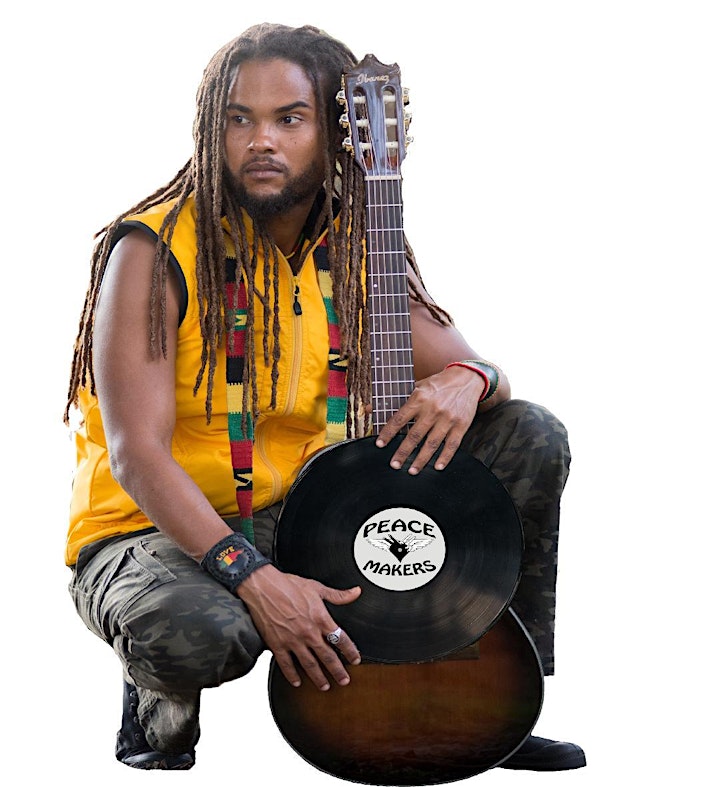 Lee Tafari was born Trevor B. Lee on Dec. 18th 1975 in Kingston Jamaica. As the son of Daddy Lees, owner of Lee's Unlimited Sound (est. 1968) he was surrounded by music from the start, and from early childhood he was clearly destined to be a part of it.

When Lee was 7 he moved with his mom and sister to FL. where he mostly grew up. His first venture into the music was dancing "Being part of a festive family such as mine it was hard not to pree Music. When we would have parties or go to them everyone would want me to dance and lively up the place." But, his ability as a selector soon became apparent. Just outta high school he started working with Riddim Force, before running a leg of Lee's Unlimited in the States. He was then approached by Black Chiney to do some of their international dates, which took him to Canada and most of the Caribbean, becoming well known as Chip Lee the Performa and gaining a lot of popularity.

After selecting at so many venues and places Lee decided it was time for a change. "I was playing for crowds, bussing the place but not fulfilling what I feel the Most High ordained for I Life." He started a radio program on a local radio station in Miami (riddims 94.5) called 'JAH Guide'. "I went through a very Spiritual time and decided the only way this music thing was going to last is if I do it for a higher purpose." He soon linked up with 'Karib Link TV' and they put together a production called 'Sight and Sound.' This innovation got great recognition because not only were the people hearing the songs but now visual was added (video mixing). While this was very successful, it was time for more change/growth and Jamaica was calling, so he moved home andsettled in Portland. It was in this time that Lee Tafari discovered his Love for song writing and the guitar, carrying it everywhere with him as he learned to play.

In early 2010 his daddy passed on and left the sound Lee's Unlimited to Lee. "I Loved sound ting same way but i didn't like how most was playing sound in dem time deh". Lee linked up with the 'Uprising Roots Band' and they started doing events together such as "Iration Ites Vinyl Series" which was kept once a month at Tuff Gong Studios. The event got a lot of attention as it displayed the original way of selecting with actual records. After taking a hiatus, it is now started up again and is held quarterly.

In 2013 Lee Tafari united with Haile Conscious Works, starting what they call 'Project NO LITTERING Jamaica' which is aimed at bringing awareness and education to the dire environmental situation, as well as need for cleanliness in the music - mind, body n soul... This union also brought him to California a number of times, touring the West Coast - acoustically, and with The Upliftment Band, as well as presenting to the people what he calls 'Live to Vinyl' - fusing the art of Vinyl selections with Live music interjections, creating a truly unique and entertaining experience! On Nov. 1st 2014 they released his debut acoustic album UP & UP Lee Tafari Unplugged. The response to the works has been very positive all round. It has received a lot of love and airplay on Jamaican radio station IrieFM.

The journey continues through 2016 and beyond, with the focus fully turned towards sharing purely positive word, sound, power with the World, doing Music for LOVE and magnifying the Most High through these works! Stead fast on the mission, he brings something refreshing to the music, a truly humble n peaceful messenger, a bright light sent from JAH - Lee is Unlimited...

Venue Information:
Sweetwater Music Hall
19 Corte Madera Avenue
Mill Valley, CA, 94941