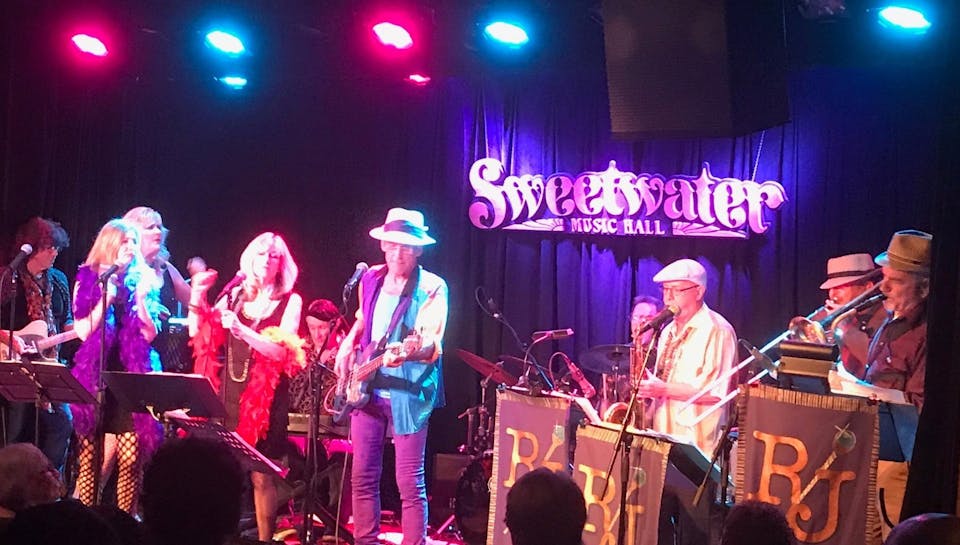 Rhythmtown-Jive's Mardi Gras Mambofest
Rhythmtown-Jive
$17.00 - $20.00
Sales Ended
General Admission.
29th Annual Mardi Gras Mambofest by Rhythmtown-Jive with special guests the K-GIRLS (Keta Bill, Kathy Kennedy & Katie Guthorn from Big Bang Beat).
This Mardi Gras-themed event will also include selections from our previous event: "Girl Groups & Girl Singers of New Orleans" and "A Celebration Of Dr John."
This is our big annual party during the Mardi Gras Season. Pulling out all the stops... amusical gumbo New Orleans R&B Dance Party with some added brass band, zydeco, swamp-pop and gospel. Featuring Mike Rinta, Michael Peloquin, Ken "Snakebite" Jacobs, Tim Eschliman, Kevin Zuffi & Kevin Dillon.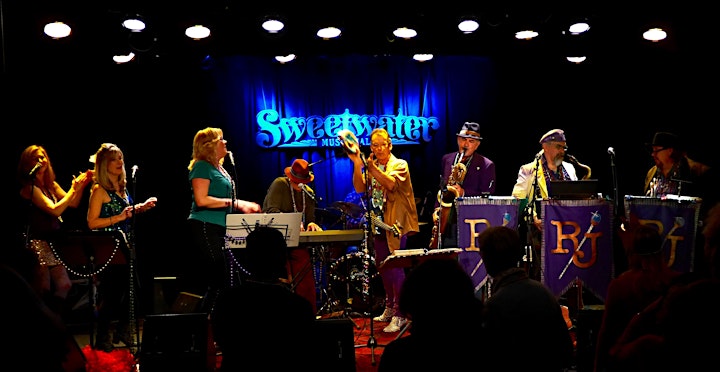 RHYTHMTOWN-JIVE is an exciting American roots combo featuring accomplished San Francisco Bay Area musicians recognized nationally for their versatility and outstanding skill. With rich vocal harmonies and tasty saxophone-based instrumentals, they offer infectious dance music, delivering inventive, original '40s and '50s influenced rhythm & blues, zydeco, jump-swing, rock & roll and New Orleans gems. They have a deep sense of the feel and mechanics of the essential grooves of these American roots styles. As a back-up group they are in demand and recognized as journeymen in their field, having worked with, among others: Bo Diddley, Big Joe Turner, Johnnie Johnson, Earl King, Robert Ward, Long John Hunter and New Orleans rock & roll sax innovator Lee Allen. They were the featured house band at the 15th annual Sacramento Blues Festival. The RJs are fronted by Tim Eschliman (founding member of the Christmas Jug Band), vocalist and bassist, who was formerly withEtta James, Commander Cody, and the Moonlighters, whose "Rush Hour" release was produced by Nick Lowe.

As individuals their credentials also include engagements performing with (not opening for): Dr. John, La Vern Baker, Queen Ida, Rockin Sydney, Al Rapone, Ernie K-Doe, Gary U. S. Bonds, Herb Hardesty, Otis Clay, Kinky Friedman & The Texas Jewboys, Frankie Ford, The Nightcrawlers, Sly & The Family Stone, Allen Tousaint, Richard Berry, Leo Nocentelli, Syl Johnson, Big Jay McNeely, Jesse Colin Young, Boz Scaggs, Don & Dewey, the Temptations, Elvin Bishop, the Coasters, Earl King, John Lee Hooker, Joe "Louis" Walker, Little Anthony and Mary Wells.

Venue Information:
Sweetwater Music Hall
19 Corte Madera Avenue
Mill Valley, CA, 94941